Oakdale Window Signs & Graphics
VIEW GALLERY
If you own an office building, retail store, or are a service provider, the front windows of your location tell your potential consumers so much about what they can expect to find inside.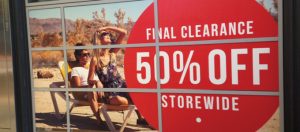 Whether you are advertising specific products, desire to produce privacy for your visiting guests and patrons inside, or want to educate your existing and potential customers on what you have to offer, premium window signs and custom vinyl graphics can get the attention your Oakdale company needs. Port Jeff Signs & Graphics is your neighborhood vinyl window graphics provider, creating appealing window displays, graphics, and lettering that get your company noticed.
Call Port Jeff Signs & Graphics today at (631) 250-6322 for your Free Consultation with Window Signs Specialist!
Window Signs for All Businesses
Port Jeff Signs & Graphics develops the most appropriate window signs and graphics for your organization needs. Our experienced sign designers will help you by providing custom window graphics that promote your goals, complement your existing product branding, and get your message out to your potential clients.




Port Jeff Signs & Graphics's window sign products consist of:
Sale/ Promotional Banners
Full-Color Window Posters
Vinyl Window Clings
Vinyl Window Lettering
Vinyl Privacy Film
Vinyl Window Graphics
& More!
The window signs professionals at Port Jeff Signs & Graphics make sure you get the best signs and graphics. During our free consultation, our sign and graphic specialists learn about your brand and make educated recommendations for Oakdale, NY signs and graphics that will best suit your needs. We are excited to help support your unique business goals with impactful custom window signs.
Window Graphics for Retail Stores
It's clear that retailers are focused on designing their custom window displays. A well-done window display readily attracts interested new customers to your business. When you want to attract more attention by highlighting a unique sale, or desire to feature a specific product, custom window displays are an ideal way to make your brand stand out.
Usually, window displays are updated frequently to promote the newest, hottest services you have to offer. We can offer you attractive custom window signs, graphics, and banners that help you promote your promotions, special events, and useful products in an exciting way that is certain to attract more new customers.
Privacy Window Vinyl For Offices
Office buildings, such as law firms, therapists, banks, real estate agents, and other service professionals, apply window vinyl film on their outdoor windows for privacy, promotion, or branding purposes. We'll provide privacy film that can provide a frosted or etched glass window, without the cost and permanence of replacement glass.
A lot of brands prefer to have their own name, logo, or other graphics or text added to their custom privacy film for product branding reasons. We will prepare a one-of-a-kind privacy film custom crafted specifically to your business, or provide you with types of well-suited vinyl film options so that you can easily make the best move for your brand.
Window Signs for Service Providers
Just because your company doesn't offer retail products does not mean that you can't have an eye-catching window display! Dress up your windows with decals celebrating your most desired solutions, special promotions, or even design a engaging mural that shows how your business can really benefit your preferred new buyers.
Our talented signs and graphics designers work together with you to produce the ideal display for your organization and desires, and our full-service Oakdale sign shop provides everything, including design, fabrication, and final install of your finished vinyl graphics.

Free Window Sign Consultation
Port Jeff Signs & Graphics is here for you, from consultation and graphic design through to expert installation. Our experts develop the high-quality window signs, graphics, displays, banners, and posters you need to captivate more new customers and clients or provide privacy to those inside your business. No matter what your business objectives may be, Port Jeff Signs & Graphics develops the most appropriate solutions for your business!
Call Port Jeff Signs & Graphics today at (631) 250-6322 for your Free Consultation with a Window Signs Specialist!