Ocean Beach Business Signs
VIEW GALLERY
If you want eye-catching business signs that attract more customers and grow your business, you have come to the right place!
There are many ways that commercial signage can help you accomplish your goals. From enticing new customers to enter your facility to promoting your highest-margin products, business signs consist of all of the physical signage and marketing materials you use to spread the word about your business.
As a local, full-service Ocean Beach sign and graphics company, our experts are ready to help you accomplish your business goals. We fully explain the unique benefits and drawbacks of the different types of signage, provide recommendations for lighting and placement, and will even deliver complete design, production, and installation services for all of your new signs and graphics.
If you want the right signage, you need the right signage partner. As local Ocean Beach, NY sign and graphic professionals, we understand the needs of our community, and our local regulations. We can make sure your business is both compliant and professionally finished, will all of the signage elements needed to deliver an unforgettable client experience, all within your timeframe and budget.
Call Port Jeff Signs & Graphics at (631) 250-6322 for your Free Consultation!
Cohesive Commercial Signs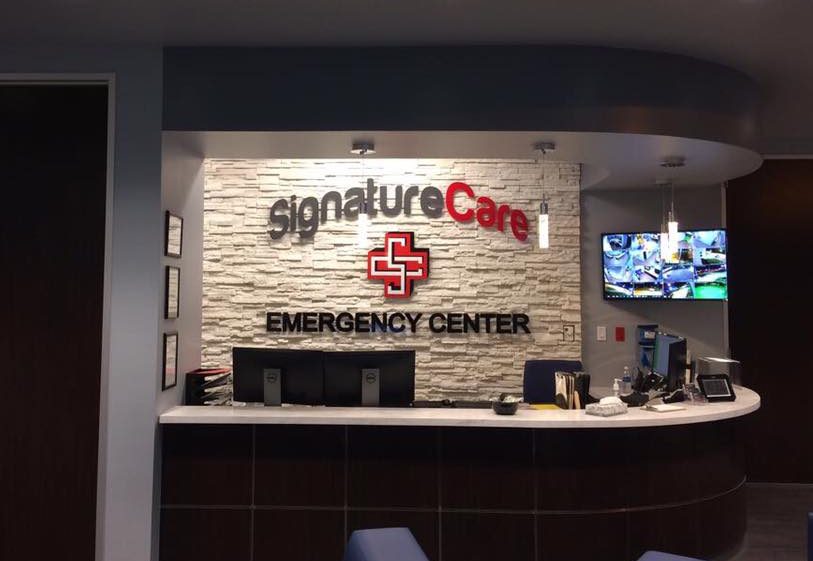 To stand out in the competitive local business market, you must arm yourself with well-planned and well-crafted business signage. Aside from sharing your logo and business name with your potential guests, custom business signs can provide information that your potential customers will need, such as your current promotions and sales, your hours of operation, or facility ADA and accessibility information.
The specific combination of commercial signage elements that you choose for your business will both provide information and compel new visitors to enter and past customers to return by consistently reinforcing your brand personality while highlighting your highest margin or most in-demand products and services. Port Jeff Signs & Graphics is unwavering in our dedication to helping small business owners effectively grow their business and improve their bottom line. By providing them with impactful commercial signage, we support their visibility in an ever-growing and changing market.




Our comprehensive range of commercial signage services makes it easy to promote special deals, launch products, promote events, and much more. Custom storefront signs for businesses introduce who you are and what you offer to prospective customers. Pole signs help your brand stand tall and proud above the noise of your competition. Monument signs make an outstanding first impression on new and repeat visitors to your establishment. Canopy and awning signs promote your business and brand while also serving to provide shelter and comfort to customers. Whatever your goals or signage needs, we have the right signage solutions for you.
The right combination of permanent business signs and graphics and temporary promotional signage is the key to increased visibility and jumpstarting your business growth.
Complete Business Signage
Your custom outdoor signs and indoor signs should work together, cohesively supporting your brand and clients. From attracting new customers to supporting them with buying decisions, your signage blend is incredibly important to the overall customer and staff experience.
Outdoor business signage is used to attract new customers and clients and pull them into your business with exciting offers, professional branding, and easy to see and understand graphics. From channel letters, cabinet signs, and other storefront signs to promotional window graphics, banners, and a-frame signs, we have the right custom solutions for your needs.
Indoor business signage is designed to support customer flow and improve product/service sales. From vinyl graphics and banners to ADA signs, promotional product displays, and even trade show exhibits, we offer a complete range of interior signage products custom made to support you.
Our exhaustive list of business signage services includes, but isn't limited to:
Signage updates due to special events, seasonal changes, or new products are also common. Many of the sign types we create are intended for temporary promotional display, and are designed with that function in mind. We always choose the right materials, products, and design to support your specific goals, whether you are looking for vehicle wraps, vinyl signs and graphics, permanent facility signage, or any other custom signs and graphics need.
Free Business Signs Consultation
Business signs are the easiest way to tell new customers about you and your brand. Attractive, professional commercial signage makes your business standout from everything that is competing for your potential customers' attention. Whether you need to set your brand apart from other local businesses or you simply want to entice customers to look away from their devices for just a moment, we help you to accomplish your specific goals with signage that can't be ignored.
As a dedicated local full-service Ocean Beach signage provider, our professionals handle your entire signage project, including custom sign design, eco-friendly manufacturing, and professional installation. Send an attractive, cohesive message to all of your potential visitors everywhere your brand is seen. Let Port Jeff Signs & Graphics be your complete signage provider!
Call Port Jeff Signs & Graphics at (631) 250-6322 for your Free Consultation with a Business Signage Specialist!