Central Islip Coronavirus Signage
High-quality, engaging, and customer and staff supporting signs, graphics, and full displays provide you with an awful lot of benefit to your Central Islip business, and can provide added benefit as we face the impacts of Covid-19. Whether assisting with intuitive wayfinding or inspiring your team, your commercial signs keep operations running smoothly.
Making a decision on the ideal, informative coronavirus signage requires considerate planning. Multiple factors must be considered, such as your commercial signage objectives, how clients and customers utilize and navigate your commercial space, relevant local signage regulations and requirements, and how frequently you wish to rotate your signage all have an impact on the number and type of signs you need to create a safe, comfortable place to shop and work.
Port Jeff Signs & Graphics not only provides signage elements, we understand how targeted signs and graphics can help to support building navigation, support or protect your staff, and support brand visibility. By creating engaging informative signage elements that are crafted specifically for your facilities, requirements, and brand, our experts take your company to greater heights.
Call Port Jeff Signs & Graphics at (631) 250-6322 for your Free Consultation!
Wayfinding & Safety Hospital Signs
When facing a national medical emergency situation such as Covid-19, it's critical that both new patients and hospital employees are aware of where to go and how to get there. Eye-catching directions, important details, and warnings should really be displayed even before your patient ever steps into the medical facility. This is the reason why hospital signs and graphics and wayfinders are essential. Impactful signage is able to support streamlined service, function as a reminder to conform to healthier habits, and help reduce the possibility of spreading infection by cutting back on person to person contact.
Distinctly identify acceptable car parking locations and support new patients and guests by providing valuable guidance through implementation of impactful hospital signage elements by Port Jeff Signs & Graphics. To build your sign visibility for patients arriving at any time of day or night, we produce eye-catching reflective signage. Supportive indoor hospital signage can be as uncomplicated as more hand washing signs, reminders of safety practices, and additional directional signage to cut back on in person support.
Whether you want to provide easy parking and drop-off support or help returning patients who are there for problems other than Covid-19 continue to be uninfected, practical signage can help you with lowering health risks for you, your hardworking staff of healthcare experts, and your patients who trust you for treatment.
Assisted Living & Nursing Home Signage
When nursing homes are faced with a medical crisis like the coronavirus, particularly Covid-19, it is very important that incoming residents and hospital employees are aware of where to go and how for getting there. Clear and precise directions, instructions, and protective warnings must start before the patient ever steps inside the healthcare facility.
This is the reason why nursing home signs and graphics and well-placed navigational signs are so important. Result oriented signage can assist with faster service, work as an important reminder to adhere to safer hygiene habits, and reduce the danger of spreading disease by limiting person to person contact.
Supportive interior nursing home signs can include things like increased hand washing signs, information regarding safety procedures, and increased wayfinding support signage elements to help cut back on person to person assistance. Assistive sign and graphic elements can help with reducing health risks to you, your dependable staff of healthcare specialists, and your patients who put their faith in you for treatment.
Business Update Signage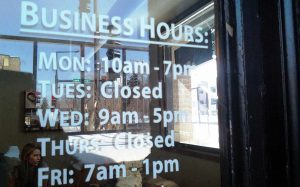 Is your Central Islip, NY business expecting updates to your business practices or your hours of operation in tactic for reducing the spread of the coronavirus? Targeted, effective signage products help your customers understand how to still do business with you during the restricted movement and interaction we are all struggling with.
If you'd like to redirect your customers to your drive-thru or alternative area, supply up-to-date hours of operation details, or communicate new or alternative contact details your patrons can use to reach out to you when your physical location is not accessible by drop-in customers or guests, Port Jeff Signs & Graphics supplies assistive business signs, graphics, and banners to assist you during these uncertain times.
We are able to offer reduced exposure sign and graphic products. This allows us to manufacture your necessary new signage elements, even install them at your location, without requiring any in person or face-to-face contact with you or your team. Since things are evolving quickly in reaction to the coronavirus, we offer immediate production turn-around on straight forward informational sign and graphic elements. When we have you set up as an existing client, we can produce updated signs and graphics with nothing more than an easy phone conversation or email to inform us of your request.
Every Sign Your Business Needs!
Port Jeff Signs & Graphics delivers eye-catching, cohesive commercial signs and graphics. If you require updated signs and graphics to tell clients and customers about your hours, contact details, or other important business information that may require changes in response to the coronavirus, or are making use of the down time renovate your signage without impacting business operations, Port Jeff Signs & Graphics will help with assistive commercial sign elements.
From point of purchase signs to temporary displays, our specialists know the specific specifications of different niches and different businesses. Our Central Islip team considers your brand guidelines and personality, business goals, and facilities to craft the most effective signs for your business needs.
Whether you need one graphic or a full collection of branded and promotional signage elements, Port Jeff Signs & Graphics can develop it for you.
Our commercial sign services include:
Free Expert Sign Consultation
Port Jeff Signs & Graphics is fully committed to assisting you as we all go through this difficult phase. Our dedicated, experienced staff is ready to provide the high-quality, branded commercial signs you need to support product promotion, customer service, brand reinforcement, or wayfinding.
Call Port Jeff Signs & Graphics at (631) 250-6322 for your Free Consultation with a Signage Specialist!