East Islip Vinyl Signs
VIEW GALLERY
Vinyl signs are all around you all the time. From promotional storefront banners to cut vinyl hours of operation, the versatility of vinyl means that it can be used in virtually unlimited ways to promote your business and brand.
Vinyl is available in cut graphics or lettering, similar to stickers or decals, or can come in entire sheets for full coverage, such as wall mural or vehicle wraps. With options for different adhesion types, permanence levels, weights, colors, and finishes, our experts will determine the right vinyl product and placement for your specific business goals.
Are you looking to enhance the effectiveness of your promotional window display? Do you want to provide a relaxing environment for your staff on break or keep them safe while on the job? Do you want to make it easier for customers and guests to navigate your space?
Vinyl signs are the solution! Our East Islip vinyl sign and graphic experts will help you visualize your space with the right signage to help you accomplish your brand marketing goals, and we have the tools, experience, and resources to turn it into a reality for you.
Call Port Jeff Signs & Graphics at (631) 250-6322 for your Free Consultation!
Promotional Vinyl Banners
One of our most popular vinyl products, banners are used by just about every type of business for a multitude of purposes. From large-format grand opening banners to retractable tradeshow banners, indoors our outdoors, in any size, our experts will deliver the ideal vinyl banners for your specific needs.
Some banners are intended for permanent display, heavy travel, or outdoor use. We have coating options and material choices that are designed specifically to withstand long term use.
If you are seeking a short-term or more cost-efficient solution, we offer temporary banners in smaller sizes and lighter weight materials to help you get your message out without breaking the bank.
Window Vinyl Clings & Film
While banners are typically free-hanging without any integrated adhesive, there are many vinyl types that are intended to stick to glass or windows, either through glue (vinyl film) or static adhesion (vinyl clings).
These can be intended for long or short term use, with vinyl film intended more for permanent display. Vinyl clings are better suited for temporary display elements, such as promotional or seasonal specials. If removed carefully and stored properly, vinyl clings can be reused for future needs.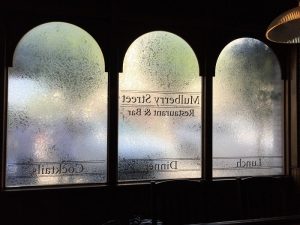 Window film is often used when greater coverage is desired and is frequently patterned, similar to an etched or frosted window pane. Custom patterns, prints, and designs are available, and we will create the perfect one for your brand.
These are popular for businesses working in a rented space, or those who are looking for a better alternative to replacing entire window panes with an etched version. Restaurants, offices, and many service providers commonly choose this type of vinyl window dressing, typically integrating their logo and marketing message for an attractive, high-end finish.
Cut Vinyl Lettering
An important part of growing your business is creating a dynamic, inviting, and intuitive experience for your customers, clients, and guests. This means meeting their expectations for signage.
We are all used to certain elements being in certain places, so we know where to look. The business sign is above the door. In an office building, the directory is by the elevators. In a restaurant, the menu is above the order station. The elements that are standard across businesses can still be personalized, and provide your business with a high level of professionalism.
Cut vinyl lettering is suitable for use in many places and can serve many purposes throughout your facilities. From listing your hours of operation on your doors to displaying your services on your windows, reinforcing your logo or providing wayfinding support on walls, or simply adding some interest and excitement to a boring area, they are a great solution for attractive, permanent signage.
Wall Murals & Floor Graphics
Businesses have long enjoyed the aesthetic benefits of murals, however the expense and time involved with working with an artist for a painted mural has not allowed them to be a viable option for many business owners.
With large-format vinyl wall murals, you can get attractive graphics for your walls, windows, ceilings, and floors in a fraction of the expense and time.
Durable, engaging wall murals are custom designed to your desires, facilities, and goals. We assist with the entire mural process, from design to final installation for an impactful and lasting finish.
Of course, your marketing doesn't have to be limited to the walls and windows of your business.
Floor graphics are a great way to provide intuitive wayfinding support, add a promotional message in a unique and eye-catching place, or simply reinforce your brand with graphic displays or logos.
Able to be adhered to most smooth, flat surfaces, vinyl graphics and lettering can be used on wood, tile, concrete, and even some carpeting, making it a great versatile solution for your business promotion needs.
Floor graphics are especially popular for captive audiences like elevators, or for providing support at trade shows and events to attendees. For all of your custom vinyl signage needs, our team of experts have the solution!
Vinyl Graphics Options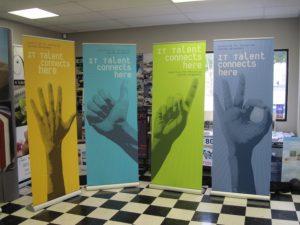 It would be impossible for us to list all of the ways and places vinyl can be used. Whether you need signage for business promotion, personal needs, to support your organizational goals, or any other reason, our experts will help you determine if vinyl is the right choice. We will help navigate all of the options available to you, so you can be confident you are getting the right vinyl signage for your needs and goals.
With so many options for weights, colors, applications, and finishing, getting the right vinyl sign without the help of an expert can be complicated. We are intimate with the options available, and will make sure you are not only getting a sign that meets your budget, but one that meets your needs.
Popular uses for vinyl graphics and signs include:
All of our sign and graphic products are completely customized to you, your needs, and your business. Whether you are looking for 50 3″ decals, or need all the halls of your school wrapped with fun and engaging images, we are able to handle your project with smart solutions and outstanding customer support from concept to completion.
Full-Service Vinyl Graphic Shop
Your local custom sign manufacturers, we tackle every aspect of your signage project in-house.
From our initial free consultation through to expert installation, we are dedicated to providing you with the support and products you need to become a life-long customer. Our designers work with you to understand your vision so that our fabricators can produce your signage exactly to spec, and our expert vinyl sign installers will ensure that it is properly placed and attractively finished so you and your staff, customers, and guests can enjoy it for as long as you desire.
Vinyl signage is known for being somewhat tricky to self-apply. Our East Islip, NY signage experts understand how easy it is to rip, stretch, or wrinkle vinyl during application, and have techniques to help avoid those common pitfalls. If any aspect of our vinyl sign installation does not meet your standards of quality, we will be happy to replace it. However, if issues arise during self-install, we would not be able to provide this same guarantee.
Let us make sure that your vinyl signs and graphics are exactly what you have been hoping for!
Free Vinyl Signs & Graphics Consultation
Your local East Islip vinyl signs and graphics experts, we are devoted to earning your long-term business. With outstanding customers support, on-site experts, and complete sign and graphic services, we make it easy for you to get the high-quality signs your brand needs.
From vinyl banners and window clings to wall murals and vehicle wraps, we handle any size signage project with efficiency and skill. Our focus is always on delivering effective signage that makes your business look good.
Call Port Jeff Signs & Graphics at (631) 250-6322 for your Free Consultation with a Vinyl Graphics Specialist!